W
hich is the best media player for Windows PC — If you're looking for this question's answer, you're at the right place. Apart from being a feature-rich software, a media player also needs to be simple, intuitive, and lightweight. If we take these factors into account, players like VLC, GOM, Media Player Classic, etc. are recommended. But, what about their features?
As there are tons of software available for Microsoft Windows platform, choosing the right one for your computer isn't an easy task. Also, with the increasing number of newer media formats, not all free media players are capable of running all popular file formats like MKV, FLV, AVI, MP4, MOV, etc. That's why very often people send us emails asking the question "Which is the best media player for Windows?" This has prompted me to prepare a list of the best free media players for Windows operating system. You can also check our previous lists of top
video players for Android
and
Linux
.
Apart from being a free video media player, it should also be lightweight to make sure that your multitasking doesn't take a hit while watching movies and TV shows. So, let's take a look at different options and help you make the best possible decision:
10 Best Media Players for Windows




1. VLC Media Player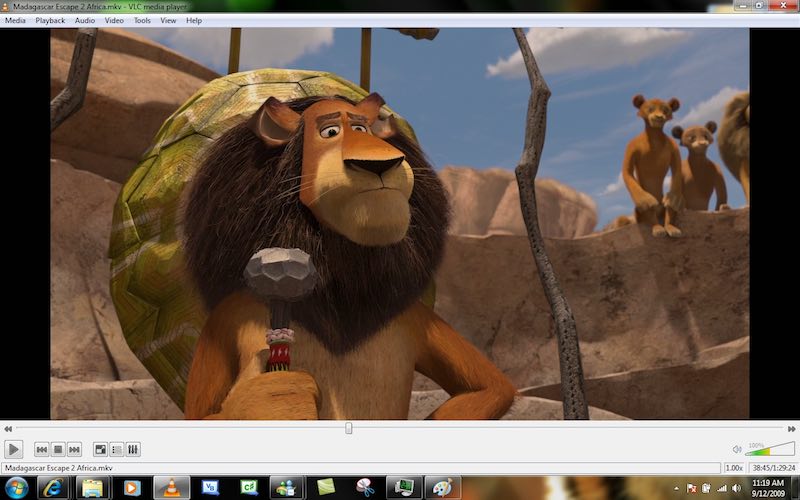 Whenever we start any discussion of the best media players and how great they are, the name VLC automatically comes at the top. But, why is it so? What's the reason behind its massive popularity? VLC Media Player is a free and open-source media player that's available for all popular platforms. Created by the VideoLAN project, VLC Media Player is known to support a vast number of audio and video compression methods and file formats. Over the years, VLC has earned the reputation of being the "play everything" video player. VLC has also inspired the development of many other media players with the same focus.
VLC is one of the best PC media players due to its fast and simple nature that doesn't involve any painstaking steps. The software also features different customization options that can help you improve your viewing experience and change the look of the player. It's also often used a streaming media player. Being an open source media player, you are free to examine its source code. This amazing Windows Media Player alternative also receives frequent updates and has a large user community. It runs on all Windows versions, from Windows 10 to Windows XP SP3. From time-to-time, this free movie player keeps receiving new features and updates. It's my de-facto choice for fulfilling all media playback needs. You can also check out our dedicated article on
VLC tricks
.
Supported Platforms:
Windows 10, Windows 8.1, Windows 7, Windows Vista, Windows XP
– VLC Media Player website
2. PotPlayer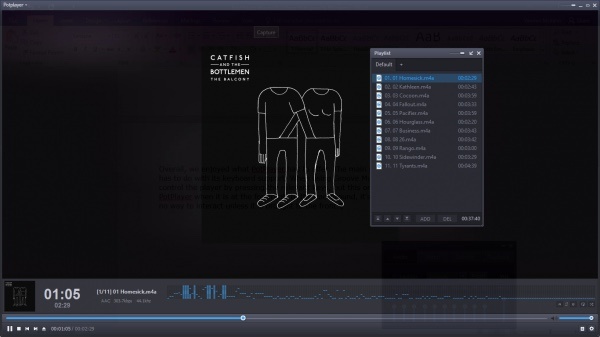 Competing with other video players like VLC, PotPlayer has managed to earn a good reputation in the recent times. This multimedia software for Windows platform has been developed by South Korean internet company named Kakao. PotPlayer has tons of features and specialties that can easily give VLC a run for its money. This recommended media player comes with a wide range of customization options that allow you to make this software fit for your needs. Using the techniques like CUDA, QuickSync, and DXVA, PotPlayer is able to deliver maximum performance and a lightweight experience. That's why PotPlayer is the second best media player on the list.
Compared to VLC, PotPlayer might be less popular but it supports even more file types. It goes without saying that it's a great player for MP4/FLV/AVI/MKV files, which are very common. You have the option to make a choice between sound cards, bookmark your favorite scenes and preview them, etc. You also get filters for brightness, contrast, hue, noise reduction, etc. It also comes with lots of built-in keyboard shortcuts and hotkeys. But, what makes VLC more popular than PotPlayer? Well, for most of the users, the long list of features and settings might be just too much. Also, PotPlayer is limited to Windows. Overall, PotPlayer is one of best media players around if you want to ditch VLC Media Player.
Supported Platforms:
Windows 10, Windows 8.1, Windows 7, Windows Vista, Windows XP
– PotPlayer website
3. KMPlayer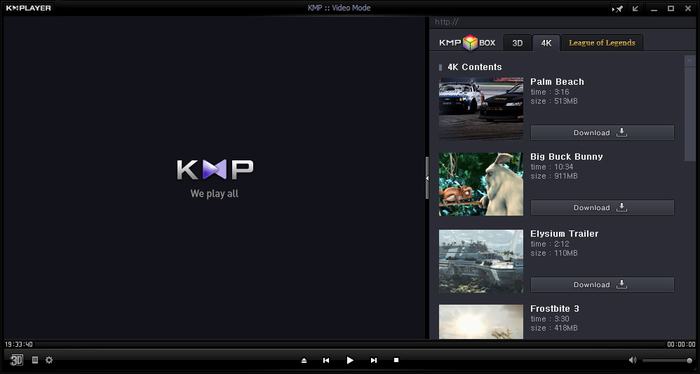 KMPlayer is another great and free Windows 10 media player that possesses the ability to play almost all mainstream video and audio files. As it has an inbuilt codec for Windows 10, the users don't need to look for any different codec. To increase its compatibility even further, you can add external codecs. With the support for 3D, 4K, UHD support, the users can enjoy high definition videos on your devices.
KMPlayer is also known for its wide range of support for formats. The users have lots of choices when it comes to audio and video effects which makes sure that you don't feed the dearth of any feature or support. You can choose the parts of videos as favorites, make them repeat, remap the keys for remote interface, etc. You also get the feature of editing subtitles right inside the player. First released in 2002, KMPlayer free media player was acquired by a Korean streaming company Pandora TV in 2007.
Supported Platforms:
Windows 10, Windows 8.1, Windows 7, Windows Vista, Windows XP
– KMPlayer website
4. Media Player Classic – Home Cinema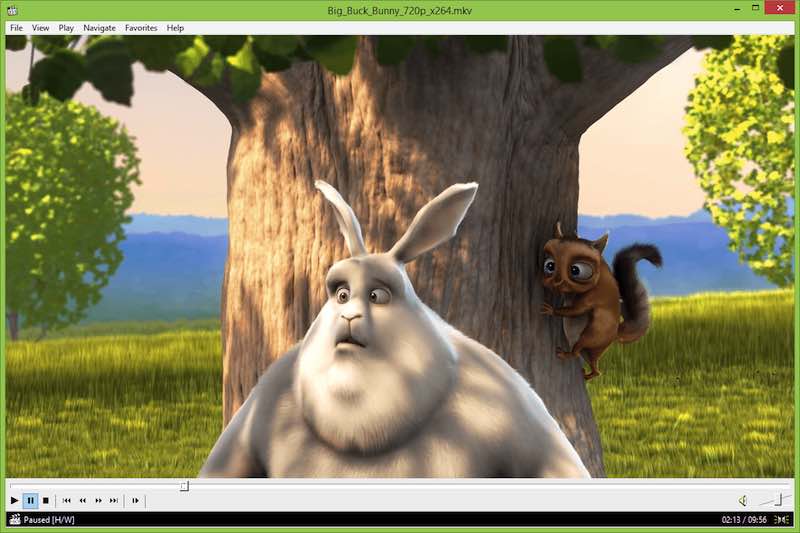 Just like its name signifies, Media Player Classic is a classic media player that was bound to be featured on our list of best media players. Build after the halted development of the original Media Player Classic, the Home Cinema version is an effort made by the community of its fans. Together, the developers have improved the older version and made a speedy and lightweight software. The other fork of the original Media Player Classic is the Black Edition. If we compare both of them, Home Cinema ranks better and keeps improving its feature set to rank among the best media players.
Talking about all the fancy features, just like other software on this list, Media Player Classic doesn't come loaded. But, that doesn't mean that it's going to disappoint you. This free multimedia player can be used even on your old computer without any hassle. Media Player Classic is a great Windows 10 Media Player alternative and it also features a DVD player software on Windows 10, subtitle download option, Skype integration, etc.
Supported Platforms:
Windows 10, Windows 8.1, Windows 7, Windows Vista, Windows XP
– MPC-HC website
5. ACG Player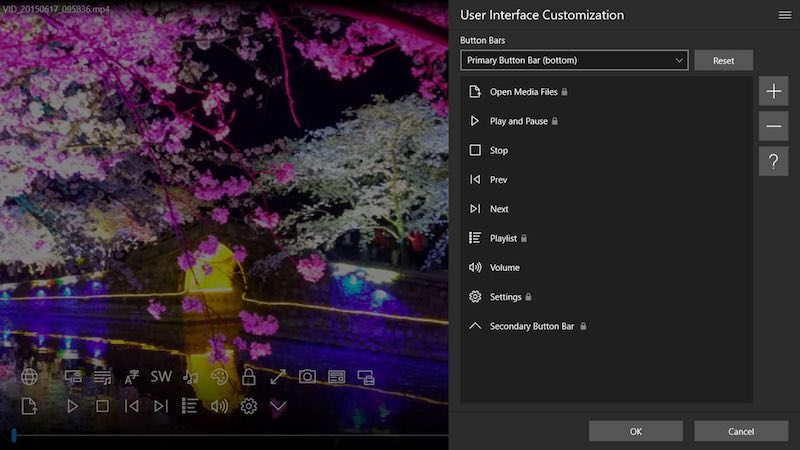 If you're looking for a UWP media player app for Windows 10 that's clean looking, it's time to stop your search becauase ACG Player could be your final choice. It's a lightweight media player that has all the essential features like audio and video effects, music visualizer, art font subtitle, gesture control, background music. etc. ACG Player supports most media codecs out-of-the-box and follows no-nonsense policy. It also supports playback from external devices, files, and discs. An even more lightweight version of ACG Player is available in the form of Ax-Lite, which is its faster version without some features. Do give it a try for its clean and zippy interface.
Supported Platforms:
Windows 10
– ACG Player website
6. GOM Media Player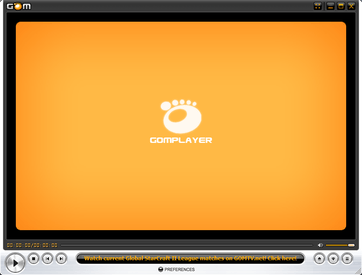 GOM Player, or Gretech Online Movie Player, is a completely free Windows media player alternative that comes with inbuilt support for the most popular video and audio formats. That means it can play all the most popular video formats like AVI, MKV, MP4, FLV, MOV, etc. Apart from the basic functionalities that come loaded with other popular PC media players, GOM Player comes with lots of advanced features like A-B repeat, Media Player Capture, speed control, audio and video effects, screen capture, etc. It also gives you the choice to change skins and make the whole look of GOM Player highly customized.
Using GOM's own library, you can download lots of subtitles and enjoy movies and TV shows in your preferred language. You can also link this awesome media player for PCs with the vast database of OpenSubtitles.org. It could be possible that this media player software might not support some uncommon types. For that scenarios, GOM Player's Codec Finder service will let you search for the missing codec. GOM Player for Windows supports a wide range of operating systems, ranging from Windows 10 to Windows XP SP3.
Supported Platforms:
Windows 10, Windows 8.1, Windows 7
– GOM Player website
7. DivX Player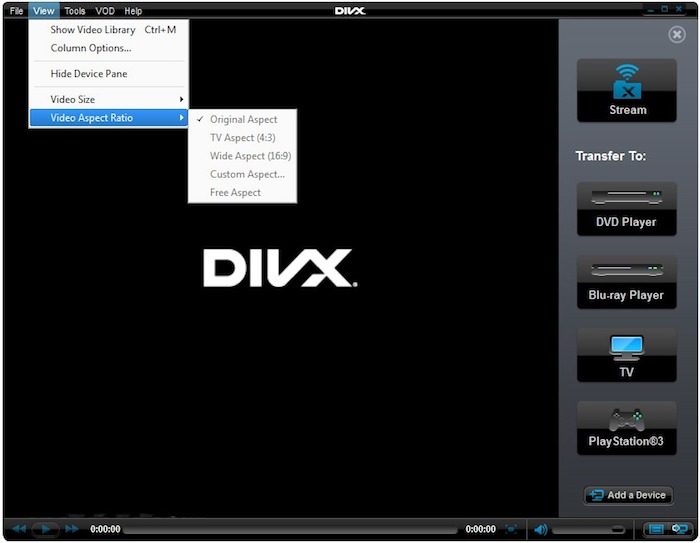 The #7 entry on our list of best media players is DivX Player for Windows. It calls itself the first of its kind media player that offers free HEVC playback. With this popular and useful media player, you can also enjoy UltraHD (4K) playback. It goes without saying that DivX player is optimized for played video files in the most popular formats like MP4, MKV, DivX, and AVI. DivX also acts as a streaming media player that lets you stream music, video, and photos to any DLNA-compatible device.
DivX player also comes with advanced features like Trick Play, which lets you jump to your favorite scenes easily. With the support for Chapter Points, you can simply play different scenes. Its smart media library keeps track of the purchased as well as private video content. The support for multiple audio means that you can switch among different soundtracks without hassle. With its Resume Play feature, you can simply jump to the point where you left off.
Supported Platforms:
Windows 10, Windows 8.1, Windows 7, Windows Vista, Windows XP
– DivX Player website
8. Kodi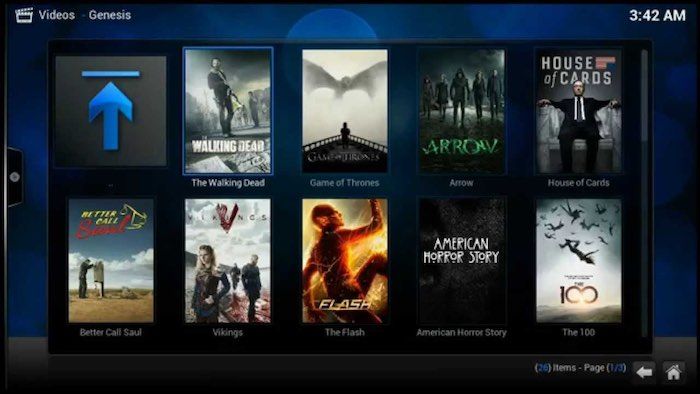 Kodi, formerly called XBMC, is a free and open source media player. It's a highly customizable media player that you can use on your laptop or desktop to get a media center experience. Just in case you're missing Windows Media Center on Windows 10, Kodi is a great alternative. This contender for the top media player for streaming content is even better if you're using it with an external, larger display because of its 10-foot user interface. In the recent past,
Kodi has been in the headlines
due to pre-loaded Kodi boxes and add-ons that support piracy.
Kodi plays almost all popular video and music formats, podcasts, and other digital media stored locally or on the internet. Initially, Kodi was independently developed and called Xbox Media Center for the 1st gen Xbox gaming console. This recommended media player also has plug-ins that can be used to expand its features and include functionalities like Netflix, YouTube, Hulu, Veoh, etc. Kodi's source code is open source and developed by a global community of unpaid volunteers.
Supported Platforms:
Windows 10, Windows 8.1, Windows 7
– Kodi website
9. Plex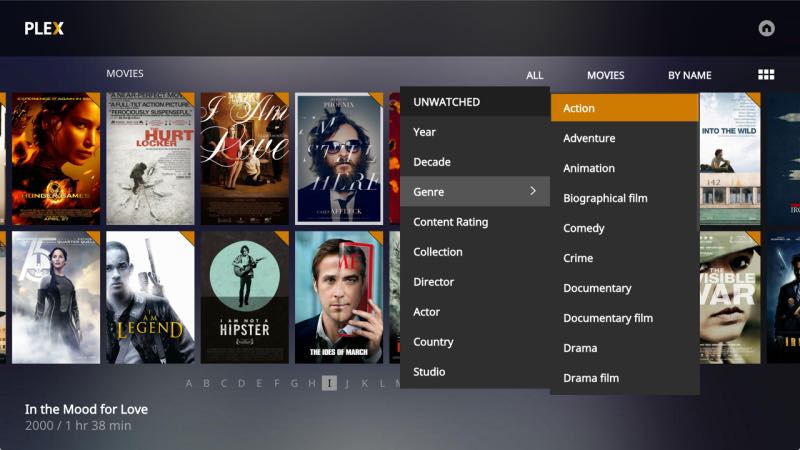 Back in 2015, Plex made a big change and replaced their Plex Home Theater with its new Plex Media Player. Plex lets you easily take care of your large media collection, which can include anything like videos, TV shows, movies, photos, personal videos and music, etc. It organizes your collections and makes it look great. With its easy-share nature, you can pick and choose what to make public and give your family access.
It supports almost all file types, including hi-fi music and video formats. As it's Chromecast supported, you can cast the videos on your larger TV screen. You can also use the Plex app on your phone or tablet to take control of your player. Use this app to streamline your video content library and get the advantage of a feature-rich video media player as well.
Supported Platforms:
Windows 10, Windows 8.1, Windows 7
– Plex website
10. 5KPlayer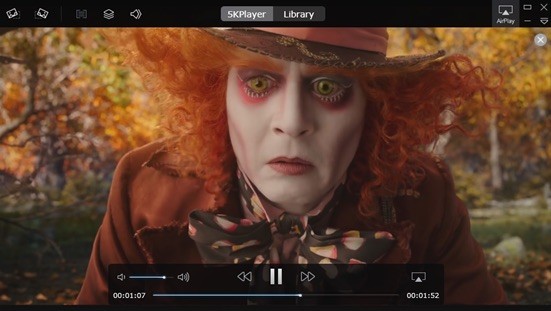 5KPlayer, the final entry on the list of recommended Windows media players, is a top-rated video player for Windows 10 as it's extremely compatible. It claims to play almost all kinds of videos and music without any plug-ins, and it actually delivers. Its interface is very clean and simple. It's also known for its more streaming options. 5KPlayer also lets you import videos and music from websites like YouTube, Facebook, Vimeo, MTV, etc. It goes without saying that it's compatible with common formats like MP4, MOV, M4V, MP3, AAC, etc.5KPlayer
Supported Platforms:
Windows 10, Windows 8.1, Windows 7
– 5KPlayer website
So, which free media player is best in your eyes? Which one do you use to enjoy movies and other media content? Don't forget to share your views and become a part of the discussion.
Source: https://fossbytes.com/10-best-free-media-players-windows/
Another article:
The 5 Best Free Music Players For Windows
by
Joel Lee. These days, I mostly stick to
Spotify for streaming my favorite music
and
Pandora for discovering new music
. Gone are the days of downloading gigabytes of data and trying to fit them all on a device. Now I can just listen to whatever I want, wherever I want, as long as I have a Wi-Fi connection.
This Smart Trick Keeps Your Pandora Stations Fresh
This Smart Trick Keeps Your Pandora Stations Fresh
Pandora is a great music service, but sometimes your stations get a little stale. Here's an easy way to improve them without any effort.
Read More
But there are
benefits to downloading music instead
. The best one? Being able to play music even when you don't have internet access. You also only need to download songs once (which preserves bandwidth) and you can keep your music forever (as long as you don't delete any of it).
If you're going that route, you now have a decision to make: which music player are you going to use? Truthfully, there are a lot of great ones out there, but here are the ones we've found to be the best.
As far as I'm concerned, foobar2000 is one of the wonders of Windows. It launched way back in 2002, making it one of the oldest surviving apps that people still recognize. And in all that time, it has avoided the biggest mistakes that most apps make: losing focus, becoming bloated, and not staying relevant.
We
praised the virtues of foobar2000
several years ago, and still sing those praises today. It's lightweight enough to let you listen to music on any system, no matter how old, without bogging down performance. And it's simple enough that you won't feel overwhelmed. Yet, it's extensible through plugins, so you can incorporate new functionality if you want.
There's a reason why we have it on our list of
Best Windows Software
. And as long as it doesn't lose its way or make any huge mistakes, it will stay in that spot for years to come.
Notable features include:
Lightweight interface is fast, responsive, and customizable.
Supports all major audio formats, including AAC, AIFF, FLAC, MP3, OGG, WAV, WMA, and you can always add more support by installing components.
Transcodes between all supported audio formats.
Accepts third-party plugins.
ReplayGain and gapless playback.
Advanced media tagging.
Customizable keyboard shortcuts.
Download
—
foobar2000
(Free)
MusicBee calls itself the ultimate music manager and player, and based on what I've seen, it deserves that description. This player really cares about delivering the best music experience it possibly can and giving you the tools to tweak everything to your liking.
Perhaps the best thing about MusicBee, which seems to be missing from a lot of music players these days, is the lively and active community around it. The forums have thousands of active members and hundreds of new posts every day — not just for support, but also for user-contributed content like plugins, skins, tips, and tricks.
Notable features include:
10-band and 15-band equalizers for maximum audio quality.
Automatically tags your music for instant organization.
Handles WASAPI for serious audiophiles with high-end audio equipment.
Supports skins and plugins.
Imports iTunes and Windows Media libraries.
ReplayGain and gapless playback.
Available on Android and Windows Phone for mobile sync and playback.
Download
—
MusicBee
(Free for personal use)
If you can believe it, Winamp is even older than foobar2000 —
by more than five years
! Having launched in 1997, the road has been bumpy at times, and Winamp nearly shut down altogether back in 2013. But the current version as of this writing is pretty good. If you ever gave up on Winamp, now might be a good time to try it out again.
That said, Winamp has always been a love-it-or-hate-it kind of program. It's packed full of features that are definitely useful, but the interface is unique and some consider it to be a bloated mess that received too many unnecessary additions over the years. But is it terrible? Not at all.
Notable features include:
Supports all major audio and video formats, including AAC, AIFF, FLAC, FLV, MKV, MP3, MP4, OGG, WAV, WEBM, WMA, WMV.
Handles skins and plugins.
Imports iTunes libraries.
Discover new artists with dynamic song recommendations.
Smart views and dynamic playlists for variety.
Available on Android for mobile sync and playback.
Download
—
Winamp
(Freemium)
MediaMonkey is crazy useful for
anyone who has a massive media library
— we're talking hundreds of thousands of songs. A lot of music players slow down and choke when trying to manage and process that much data, but MediaMonkey handles it with aplomb.
The downside to MediaMonkey, if you can even call it a downside, is that it's perhaps too advanced for a lot of users. Not that it's tough to use, but the interface can be a bit overwhelming to navigate, especially if you're used to something more streamlined like foobar2000 or Winamp. Overall, however, MediaMonkey's feature set is impressive and worthwhile.
Notable features include:
Supports all major audio and video formats, including AAC, FLAC, MKV, MP3, MP4, OGG, WAV, WMA, WMV. Also has a WASAPI plugin for serious audiophiles with high-end audio equipment.
Handles transcoding between most supported audio formats.
ReplayGain and gapless playback.
Jukebox and Auto-DJ features for parties and public events.
Advanced media tagging, including auto-identification of songs.
Batch and automatic renaming of filenames according to your preferred pattern.
Available on Android and iOS for mobile sync and playback.
Download
—
MediaMonkey
(Freemium)
You may not have heard of Dopamine before. Most people haven't, which is such a shame. Because this nifty little music player specifically targets Windows users. It aims to provide a solid music-playing experience with all of the essentials and none of the bloat.
If you ever used Zune Player, you'll feel right at home.
Dopamine has a dark and light theme as well as an accent color (which can be set as a custom color or it can automatically match your Windows accent color). Point it to however many music library folders you have and it will automatically update based on changes therein. Simple and straightforward.
Notable features include:
Extremely simple and lightweight, essentially barebones.
Supports the following audio formats: AAC, FLAC, MP3, OGG, WAV, and WMA.
Convenient quick controls in the Taskbar, the system tray, and notifications.
Multiple player modes, including cover, micro, and nano modes.
Works well on desktop and mobile versions of Windows 10.
Download
—
Dopamine
(Free)
A Final Note on VLC and Groove Music
These two are suspiciously missing from this list. One is a favorite of fans all around the world and the other comes pre-installed on all modern Windows systems. Why did we exclude them?
VLC is an excellent way to play media, but
it's more of a video player
than a music player, whereas some of the apps we highlighted above are music players first and video players second. This is most evident in the interface, which is better suited for video management than music management. But it's also apparent from the heavy feature set, which may not be desirable for simple music playback.
The Top 5 Free Media Players for Windows
The Top 5 Free Media Players for Windows
Strong media player apps always rise to the top and it's not important which one you use. The best media player for you is the one you most enjoy using. We suggest the following...
Read More
Groove Music is okay as well, but perhaps a little too primitive at the moment. You can play local music with it but the interface is a bit too clunky to recommend. However, if this article was expanded to include 10 apps, Groove Music would absolutely be on there.
For now, I'd only use this player if you're also
subscribed to Groove Music Pass
, which lets you stream millions of songs like Spotify or Apple Music.
At the end of the day, it comes down to whatever you like best. So which one is your favorite and why? Share your thoughts with us in a comment below! And if you think we missed a great app, please let us know!
Source: https://www.makeuseof.com/tag/best-free-music-players-windows/